foretrack Features
Features & Benefits of the Foretrack System
The Foretrack system offers many industry leading features that really add value:
Real Time Information
• Up to date system, see the exact location at the moment you look log on.
• Know when employees are being economical with the truth.
• Reduce communication costs (mobile phone calls),
• Customer service improved by giving precise information on where delivers are.
• Give directions so don't waste time/mileage looking for a location.
• Pick up back loads.
Small
• The smallest product on the market.
• Covert – potential thieves won't even know its there.
• Will fit any mode of transport including motorbikes.
Geo Fencing
• Alarm certain locations – allows you to set the fence around a particular area (e.g. delivery address) & an alarm is activated & recorded when the vehicle enters/exits the area.
• Proof to customers that vehicles have been to a location at certain times.
• May result in insurance reductions.
Internet Based
• Accessible anywhere – not restricted to one location.
• Multiple users.
• No expensive start up fee.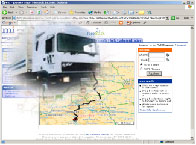 Street Level Mapping
• UK and European street mapping.
• Detailed maps including road names.
• Additional maps available on request.
GPRS Over O2 Network
(general packet radio services)
• 99% UK coverage.
• More updates for your money.
• Speedy reliable service.
Selection of Reports
• Data can be downloaded to Microsoft Excel and manipulated / saved to user PC.
• 3 month history.
• Exact routes taken.
• Mileage of individual journeys and of specified totals e.g. between tow dates.
• Top speeds and average speeds.
Flexibility
• The system can be tailored to your needs.
• Additional features and reports can be added.
• As much or as little journey information as you require.