Motorola GP388 / GP688 Portable Radio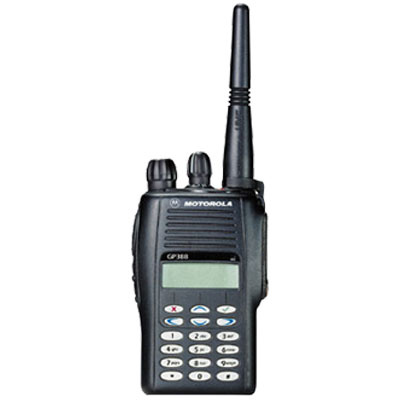 Product Code: GP388 / GP688
Available in VHF & UHF
Standard Package includes:-
Display radio
Antenna
Li-Ion battery
2.5" Belt clip
User Guide
The Motorola GP388 and GP688 (for trunked usage) is a sophisticated 255-channel solution for the professional user who requires a high quality, multi-channel product with a smaller, compact design. The GP388 / GP688 has an alphanumeric keypad, backlit LCD display and lithium ion battery as standard.
Ideal conditions provide up to a 5 km range back to back (radio to radio), although solutions can be provided for greater coverage.
If you do not have a licence, Sitelink can obtain a licence for you. Click here for more information about licensing.
VOX
Xpand Voice Compression
Whisper Mode
Call Forward
Lone Worker
DTMF Encoder Sequences
Dedicated Call Buttons
Call Timer
Stun/un-stun
Emergency Signalling
Low Battery Level Indicator
High / Low Output Power
CTCSS & SELCALL Signalling
Voice Recorder/Emergency Message
Talkaround
Scanning
Vote Scan
Nuisance Channel Delete
Option Board Support
Contact List
Status Calls
14 Character Display
Menu Navigation
Backlight
Missed Call List