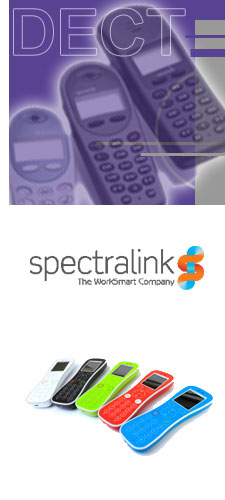 DECT
Sitelink are appointed resellers, installers and maintainers for the Kirk Spectralink range of DECT & WiFi cordless systems.
KIRK telecom - a SpectraLink company, is a well established and leading player on the market for professional wireless on-site communication solutions. KIRK telecom offers a range of technologies to meet enterprise wireless communication needs with products sold under the KIRK and SpectraLink brands.
Research shows that around 60% of incoming calls are not answered first time because the individual is not at their desk. That can add up to a lot of dissatisfied business contacts and expensive call backs. With a cordless system from Sitelink, people effectively carry their phone with them. Our systems can integrate with existing communication/PABX equipment in a number of ways including I.P., digital and analogue connections, plus installation is fast, flexible and trouble free.
What is DECT?
Digital Enhanced Cordless Telephony - DECT - promises digital speech quality that's equal to a conventional desktop phone. But with DECT from Sitelink users carry the phone in their pocket so they're never out of touch. And by integrating the DECT system with a PABX, all the user's usual incoming and outgoing phone Take a closer look at the DECT cordless telephony package:
Flexibility. Install any number of base stations for large area coverage.
Mobility. Kirk DECT Systems even allows seamless hand-over between base stations. Continue talking whilst moving from one cell to another.