3M Peltor DECT-Com II is a wireless duplex intercom system, operating on the 1.8 GHz DECT-frequencies, which are license free in most countries.
The products in the Peltor DECT-Com II family offer simple and efficient wireless duplex communication with up to 9 active users talking in full conference and additionally up to 40 listeners with possibility to quick "break in" to the conference. In a system with more than 9 users any listening participant can change from listening to speaking. The earliest active speaker will then be degraded to a listener in the conference and any other listener can follow, replacing active speakers in the order "first in – first out".
Hands-Free Communications
The DECT-Com II duplex radio intercom system is designed to make it easy for your team to clearly communicate in noisy environments. Featuring state-of-the art technology and the advantage of hands-free transmission, it delivers the benefits needed to improve workplace efficiencies and help prevent accidents.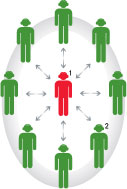 Hands-Free Operation: Transceivers provide hands-free, voice-activated duplex communications.
Duplex Communication: Automatic transmit over-ride functionality is standard for all transmitters. A maximum of nine transceivers can operate in a simultaneous, conference duplex conversation at once.
Multiple System Configurations: Flexible system configurations allow up to 40 team members to participate in a workgroup. The transceiver's design allows members to join and drop out of conference duplex discussions automatically as members stop talking.
External Connectivity: Select two-way radios can be integrated into a system configuration by using the DC2915 transceiver.
Extended Range: Approximate range outdoors is 300 yards; 50 yards indoors.
Headset Options: Compatible with multiple Peltor headset models.
Just like talking on the telephone, duplex communication technology permits simultaneous transmissions of two messages in opposite directions over a single channel. Benefits of this technology include the ability to override discussions to highlight urgent, unforeseen safety hazards.
For more information please complete the following web form and we will contact you