Sitelink operate an extensive hire fleet of over 5000 units available for long or short term hire.
These include hand portable, mobile radios, base stations and all associated accessories and services for both analogue and digital products. ATEX and CENELEC certified products including authorised accessories & batteries are also available.
Radio hire provides the following benefits
Instant delivery of equipment when required - because we, at Sitelink, hold the licence, there is no waiting time for licence allocation;
Fixed cost for contract period - maintenance is all built into the hire;
No capital expenditure - all hire charges are 100% deductible against tax;
Always have the most up to date equipment - upgrade the equipment at any time during the contract.

Essentially, hire of equipment also saves the application and purchase of a radio licence as we hold the licence and include it in the hire rates. It couldn't be easier!
Professional Event Hire Specialists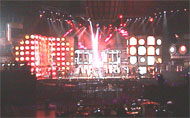 Large events require more specialist attention to detail, regardless of where your event is held. Sitelink will assist in the planning and implementation of a suitable radio system to guarantee your event runs smoothly, by providing the following services:
Need ATEX hire equipment? Click here for more information

Click here for more information on any of the above specialist services.